The wife and Thing1 like to take a trip to Michigan Avenue in Chicago every Christmas. Wander the stores we'll never be able to afford. Since we were close to 5th Avenue and its shopping off we went.
Lots of expensive stores. We didn't go into most of them as the people inside, well, kinda looked down their noses at us. On the other hand we did go into Tiffianys and looked at rings that had prices tags on them over $650,000.00. The sales people were quite polite. Incredibly friendly as well.
Thing1 wanted to go into the Nintendo store. They had a musuem upstairs where we found this.
Solid stuff there.
At the upper end of 5th is Central Park. What a oasis. It was 95 in NYC and it seemed like 15 degrees cooler in the park. Beautiful place. Wandered around a bit and decided to head back towards Times Square.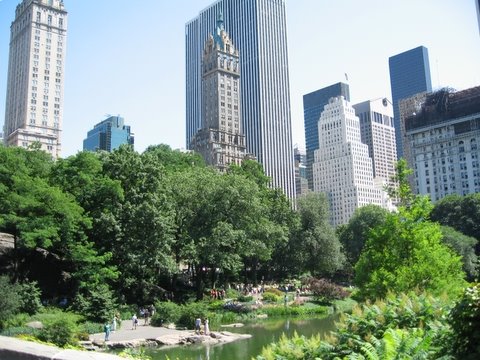 I found a way to park in no parking zones too. Just need the right plates.
Thing2 had found a Build-A-Bear coupon in the local paper. We wander down to the store and she finds the perfect bear.
Since hunger pains were making people cranky we looked for food. The wife and I wanted something local but the kids wanted something generic. Picked a TGI Fridays and went in. After one look at the menu we decided that it was appetizers. A burger that is $7.95 at the Fridays in Hoffman Estates was $18.95. A bottle of Miller Lite was $6.80. What a rip. I'll never eat there again.
Time for a bit of a rest and more wandering Times Square.