Thing2 is a child of God. She just wants to help. Never seems to ask for any payment or fame or recognition - just help out. She came home one day from church with a permission slip to walk in the Relay for Life on one of our assocate pastors team. PJ, our associate pastor has lost a friend at age 21 to cancer and has been involved with the relay since. Carrie is why she walks. Carrie's Choir is her team.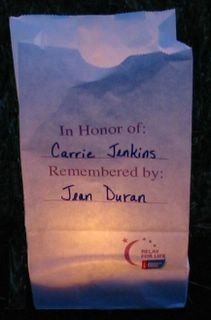 PJ talks about the walk with her confirmation small group every year which is most of her team. This year some of her former small group members joined up as well as a mom and our Junior High youth leader.
Thing2 didn't really want me there but the wife (who conviently had a root canal that morning so she couldn't go) decided I should be there. We had some time to burn so PJ bought us some sidewalk to decorate. The kids (ok I helped but I'm a kid at heart) went to work with chalk and put together a quick reminder of why we were there.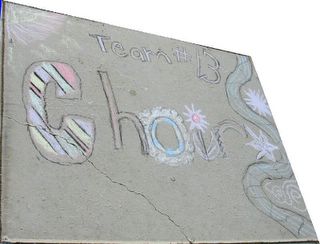 The event started with the Carol Stream Police Department Honor Guard
and a nice rendition of the Star Spangled Banner as well as prayer. A short update from a local doctor and some words of inspiration from survivors. Now it was time to start. The first lap belonged to the survivors. It may have been the only lap that night for some of them but I don't think anything would have kept them off the track at that time.
While I wasn't an official member of the team I walked (PJ was connected enough to get me a shirt). Sometimes with the kids and sometimes just laps to get rid of the stress from a long week.
Relays have all kinds of side events to keep people motivated. The first event was the 'Mr. Relay' contest. A group of men, dressed as women, had 30 minutes to collect as much money as possible.
The winner, with over $700.00 collected, was a Carol Stream Firefighter. He's fourth from the left in the aqua colored sleeveless dress. Together this band of merry men collected almost $2000.00 in 30 minutes.
As the night progressed lumaria were lit. Hope and Cure filled the bleachers.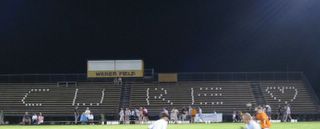 We didn't stay the whole night as PJ had to prepare for Vacation Bible School the next morning. I'm not sure Thing2 would have been too happy after midnight either. Before we left there was a presentation of the names of the all those who had sucumbed and all who had survived that were related to the walkers. It was a very quiet, moving experience.
We'll be back with Carrie's Choir next year. Maybe we'll even spend the night.