We have been talking about a new door for the front of the house, well since we bought the house. Sixteen years later we finally got around to it. The orginal door.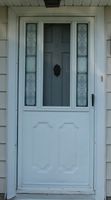 An hour later it was all gone.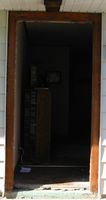 Old houses are interesting. Even better when they are on slabs. There is no real sill like you have in a house with joists and plywood. Just a little lip made of concrete. Set the door on that and set it square. Couldn't quite make in plumb as the walls aren't really plumb. Got the door to match the wall and screwed it in place. Lots of screws. We decided to replace the locks so the wife went off to Home Depot and brought home a nice Schlage set. Put them in and it looks pretty good.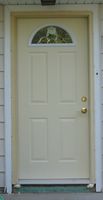 Tomorrow - paint and a new storm door.