One of my favorite mail lists is tkc - The Knife Collectors List. With collectors and makers as members the discussions are very interesting. Every year or so one of the makers is selected by a vote of collectors to make a knife just for list members who want one. This year
Thomas Haslinger
(for the second time in 3 years) was selected for a small fixed blade. Mine just arrived in the mail.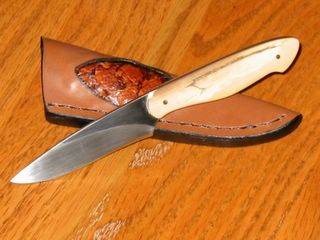 It is Serial # 1 to match my TKCL 2002 knife from Thomas. The scales are Mammoth Ivory with gold pins and gold dust in the tusk 'ache'. The handmade molded leather sheath has a belt clip and inlay of carp.

Nice little knife. One of a kind and all mine!